Come and sing Verdi Workshop
Sunday 21

st

May, at Merrow Methodist Church Hall
The itinery:
 1.30 - 2pm registration
 2.00 – 3.00 warm –up & 1st singing session
 3.00 – 3.30 talk on Verdi 's operas by Lewis Gaston
 3.30 – 3.45, tea break
 3.45 – 4.45, 2nd singing session
 4.45 – 5.30 cream tea
 5.30 – 6. 00 Introduction to Macbeth by Stephen Oliver
 6-6.30 pm Final sing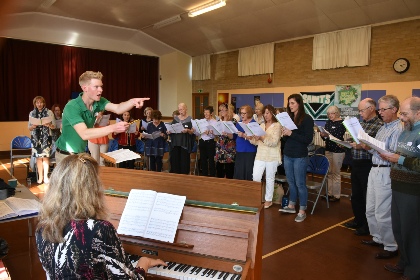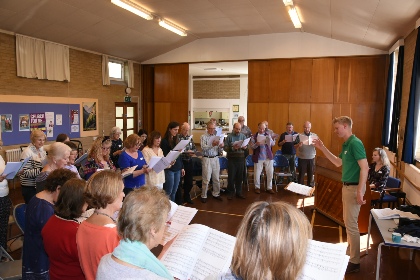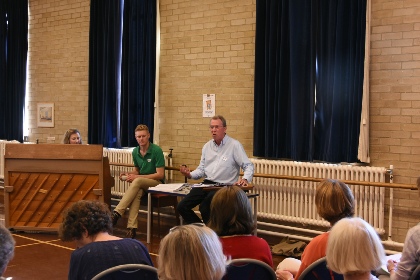 An introduction by Lewis Gaston, with Polina Gerasimenko at the piano
Split into the various voice groups of soprano, alto, tenor and bass, here Lewis directs the bass section in a particular passage.
Choruses were carefully chosen by Lewis to provide varied and contrasting challenges for the participants.
In all four excerpts were chosen from four Verdi operas. Nabucco - the opening chorus, Macbeth - The Scottish Refugees, Rigoletto - Zitti, zitti and finally La Traviata - Brindisi joined by Jan Barklem (soprano) and Kevin John (tenor).
Stephen Oliver having been introduced as the Stage Director for the production of Macbeth guides us through the characters and the intricacies of the plot
A 'cream tea' in the second break provided an opportunity to sample a number of home-made cakes, expertly made by members of the company!